Pedders Extreme Xa Remote Canister Coilover 08-09 G8 ,11-13 Caprice PP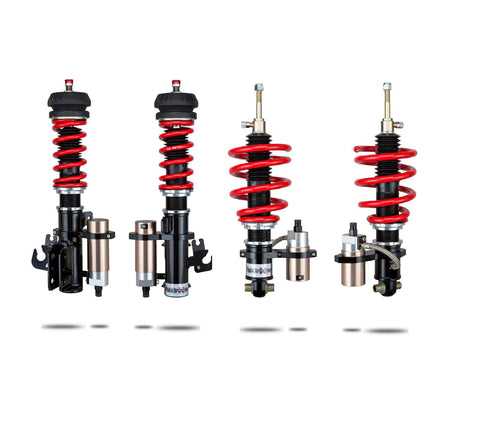 Pedders Extreme Xa Remote Canister Coilover 08-09 G8 ,11-13 Caprice PPV
Description:
Pedders USA, LLC is pleased to announce the release of the most advanced coilover application for the G8. These are the SMOOTHEST MOST CONTROLLED coilovers money can buy for G8. Pedders Supercar coilovers are 52mm monotubes. Our Xa coilovers, which are spectacular in their own right, are sized like most coilovers at 46mm. Basic fluid dynamics tells you that the larger the volume of oil, the smoother the action, control will be. Comparing a 46mm diameter disc for surface area to a 52mm disc we find there is 27% increase in surface area. Couple the 27% greater disc surface area with remote reservoirs the size of Coke or beer cans and the volume of oil is increased by more than half. Couple this HUGE amount of oil with 30 independent bound and 30 independent rebound adjustments and you have race car like control over your G8 suspension. There is nothing better you can buy for your G8. Make your G8 a true Supercar with Pedders Supercar coilovers.

There is nothing we can write here that would over-sell the the performance of Pedders Supercar Coilovers. They are too good to be true until they are installed on your G8. You'll agree with us every time you drive on them.
Never use an Air Gun to tighten a Strut or shock shaft nut on a Supercar Coilover. It will damage the unit and VOID your warranty.
Front Coils 8kg, Rear Coils 12kg
Front Coil Pre-Load 2mm, Rear Coil Pre-Load 10mm
Pedders Strut Mounts and Bearings Pre-Installed
52mm High Pressure Fully Threaded Monotube
25% more Surface Area than the Xa Coilvover
30 Position Positive Click Adjustment
Independant Compression and Rebound Adjustments
Hard Mounted External Canisters
Height Adjustment is Independant of the Damper Travel


***Just like 98% of all online retailers that are selling automotive products, this product will be drop shipped from larger distributor or directly from the manufacturer. By doing this, it enables us to offer you quicker shipping times and more competitive pricing. All orders are shipped within 24 business hours (excludes weekends and holidays) of your order being placed. Once your product has been shipped out, your order status will be updated with a tracking number from FedEx or UPS. If the product you have ordered is on back order, you will be given the option have your order cancelled for a full refund or given a ship date on when your product will ship to you.***
***HoldenPartsUSA.com takes MAP (Minimum Advertised Price) policy very seriously. We follow the strict guidelines set by manufacturers when it comes to MAP policy.If you find the same product, delivered, for a lower price from a competitor, please contact us and we will price match.***
Other fine products